use artificial intelligence and machine learning to improve mining processes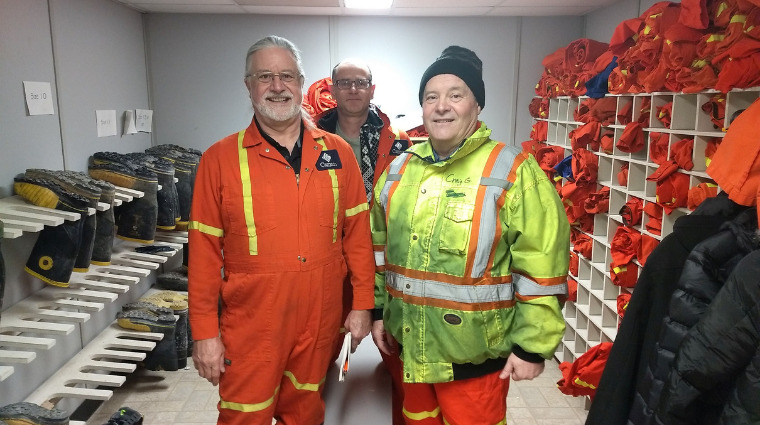 The mining industry is increasingly using artificial intelligence (AI) and machine learning as tools to optimize processes, create efficiencies, increase production and improve decision-making.
Over the past two years, Saskatchewan Polytechnic The Digital Integration Center of Excellence (DICE), Saskatchewan's first and only Technology Access Center (TAC), worked with Cameco on an applied research project that uses artificial intelligence and machine learning to advance their uranium mining processes.
"We are really innovating in the mining sector. This is the first AI and machine learning project by a polytechnic for the mining industry," Sask Polytech DICE TAC Director Dr. Terry Peckham. "Sask Polytech has the only TAC doing artificial intelligence and machine learning projects in Canada."
Uranium mining in northern Canada is difficult, to say the least. To succeed in this challenging environment, Cameco managed to mechanize its operations using jet drilling technology. A team of ten Sask Polytech researchers worked with Cameco to use artificial intelligence and machine learning to create a model to improve the accuracy of jet drilling mechanisms to extract uranium. It is a time and labor intensive process that involves collecting, analyzing and synthesizing large amounts of Cameco mining data to draw conclusions to improve processes. The DICE team confirms the effectiveness of its data assumptions by working with Cameco engineers and geologists on recommended areas for testing and drilling in a production environment. Data from these tests are used to improve results and this iterative process continually refines the accuracy of the model to improve the jetting recipe.
"After two years of collaboration with Cameco, following a sequence of guided analyses, the Sask Polytech team has created a prototype artificial intelligence model for Cameco that shows the potential to better predict the results of the mining process. uranium with about 90 percent accuracy," Peckham said. "We created and refined a unique cutting recipe to make the jet drilling system more accurate. This not only improves processes, but also saves valuable time. The use of artificial intelligence and machine learning removes the labor-intensive component from the mine planning process. »
"Uranium mining is a highly competitive global industry," said Jeremy Breker, Cameco's vice president of technical services. "Each improvement in efficiency reduces our production costs and strengthens our competitiveness.
"A common challenge in the mining process is to extract as much valuable ore as possible while minimizing the amount of surrounding and unusable material extracted. Sorting this waste is expensive.
"The jetting system can sometimes be less accurate than you would like in this regard. Our work with Sask Polytech aims to fine-tune this system to make it more predictable and efficient. This will be extremely valuable to Cameco, saving valuable dollars, reducing waste and improving our cost competitiveness. »
"Cameco provided our research team with billions of data points, including sensor data, rock characteristics, geological information and results of the mining process. We took all of this information and started looking at different relationships in the data. With this data, Cameco can now better optimize its jet drilling recipe to extract valuable uranium," says Dr. Cyril Coupal, DICE Research Director.
"We use Cameco data to train the computer to predict successful mining algorithms," adds Kelvin Boechler, DICE Research Director. "It's an iterative, interactive and collaborative process with Cameco. We test these algorithm results, validate the results, and Cameco is better able to refine its mining models and processes. »
This project combined Cameco's unique knowledge of uranium mining with Sask Polytech's experience in artificial intelligence and machine learning. "This is the first uranium mining project to use artificial intelligence and machine learning to optimize mining processes," says Peckham. "This is an exciting project for our research team and our students.
Several graduate students in computer systems technology have been hired as student researchers for this project. They were able to put into practice the theory learned in class.
"As a student researcher and data analyst, I had the opportunity to explore the most advanced technologies in data visualization and machine learning," says Ying Ye, Computer systems technology student. "My main task was to organize Cameco's raw data, verify data integrity and update the database. I also helped with data visualization and mathematical calculations so that machine learning could gain deep insight into our data set. I learned how to apply computers within the mining industry.
"It's a complex Saskatchewan problem being solved by the people of Saskatchewan. By working with Cameco, we were able to hone our AI and machine learning skills and validate our expertise," says Peckham. "This was an incredible project for our researchers and students, with great results for Cameco. We will continue to strengthen our expertise in artificial intelligence with projects in mining, agriculture and cybersecurity.
DICE falls under Sask Polytech's Office of Applied Research and Innovation and is staffed with highly skilled specialists and technologists experienced in delivering data-driven digital solutions. Commercial and industrial partners who work with DICE retain all intellectual property arising from their applied research projects. Cameco owns the intellectual property and proprietary artificial intelligence model created for them throughout this applied research project.
This project was funded by Cameco, the Natural Sciences and Engineering Research Council of Canada (NSERC), Mitacs and the International Minerals Innovation Institute (IMII).
DICE provides innovative solutions to solve data and digital challenges for business, industry and non-profit organizations. By partnering with DICE, organizations gain access to exceptional computing facilities, faculty expertise and talented student researchers, as well as research and development funding and an extensive network of relationships. DICE's team of specialists and technologists are experienced in delivering data-driven digital solutions across a wide range of industries.
To find out more visit saskpolytech.ca/dice.
Published in March 2022.