After beating cancer, entrepreneur creates The Patient Story, a community website to help patients and caregivers navigate life after a cancer diagnosis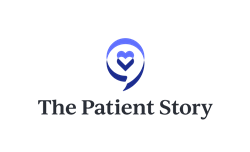 The patient's story gives humanized answers, from real members of the community, to questions about what to ask doctors, what to understand about treatment options, and much more about daily life with a cancer diagnosis – for patients and caregivers.

SAN FRANCISCO (PRWEB)
February 17, 2022
The Patient Story announces its new community website today. The new website of ThePatientStory.com draws on the personal experiences and stories of hundreds of community members to offer answers and insights to help patients and caregivers – from those newly diagnosed to those navigating treatment options. The patient story was created by Stephanie Chuang, a former NBC Bay Area reporter and storyteller, after battling — and beating — cancer herself.
"I was two months away from my wedding when I was suddenly diagnosed with stage 3 non-Hodgkin's lymphoma – over the phone. I let myself cry for five minutes before I got to researching 'what is the next,'" Chuang recalled. "There's so much information online, but it was just statistics and jargon. It's overwhelming for someone who is already completely overwhelmed. I felt helpless.
Between chemotherapy cycles (nearly 700 hours), she thought of creating a platform to help solve this problem – a place that would give humanized answers to questions about what to ask doctors, what one must understand about treatment options, and much more. of living with a cancer diagnosis every day – for both patients and caregivers.
This is how The Patient Story was born. The website goes beyond statistics and studies, to focus on advice and stories straight from current patients, survivors, caregivers and medical experts. Although no two cancer patients are the same (even with the same diagnosis), those who share a diagnosis may have useful first-hand information to offer. Some of the stories are funny, some are hopeful and some are serious – but they are all from real members of the community who openly share their own experiences with cancer with incredible vulnerability. The people who have found ways to successfully navigate such a traumatic time share an honest and heartwarming account that is often missed by many trying to come to terms with their own diagnosis.
Visitors can browse the website by type of cancer, hear high-level medical voices without the jargon, and even browse a list of frequently asked questions such as "What's the best way to break the news to loved ones?" Especially to children? or "How can I make sure I get the best possible care – what is self-defense and how can I do it well?" Most of the stories are in video or long written form and offer insight from many angles.
"The Patient Story is a place dedicated to helping support our community with mental health and wellbeing, which are equally important to dealing with post-diagnosis. I remember the darkness I was in fell when I found myself deeply depressed for the first time in my life. There was also anxiety and just a newness that I was not able to handle on my own," Chuang explains. "Let's normalize talking of these ordeals, from diagnosis to treatment, and also of the pain that grips caregivers. We need it more than ever."
To log in to The Patient Story:
The Web: http://www.ThePatientStory.com

Youtube: https://www.youtube.com/ThePatientStory

Instagram: https://www.instagram.com/thepatientstory

Facebook: https://www.facebook.com/thepatientstory

Twitter: https://twitter.com/patient_story
About the patient's history
The Patient Story hosts in-depth interviews with recent cancer survivors to give newly diagnosed patients and caregivers a sense of what their lives might look like in the months ahead. The Patient Story was started by Stephanie Chuang, a survivor of non-Hodgkin's lymphoma, who is on a mission to provide cancer patients and caregivers with the information they need, presented in a way they can easily understand. To visit http://www.ThePatientStory.com to learn more.
Share the article on social networks or by e-mail: